If you start using S3D you MUST read the guide they posted when the 3.x version was launched.
https://www.simplify3d.com/support/prin ... eshooting/
It's a bit of a copy of the 3DVerkstan Knowledge Base
http://support.3dverkstan.se/article/23 ... ting-guide
But the interesting point it's that it also (if you read it fully) explains many of the options of Simplify3D with some visual input. It's a must to understand how to tune many of the S3D settings.
EDIT 11/2/2016
Since the Basic Um2 / Umo plus profile it's just crap. I decided to finally do a 'general purpose' profile so at least your S3D prints ok.
Umo Plus and UM2 - Neotko basic profile:
https://www.dropbox.com/s/k43zh2f2x18tj ... 2.fff?dl=0
Note that the default (machine) starting sequence it's different on this profile, since I prefer to home the head, then the bed, then move down the bed 15mm, then extrude 9mm of filament to purgue, and then it goes to print.
And the ending gcode it will retract a total of 3mm.
This profile it's ready for 2,85mm users (I use 1.75) so probably the Coasting/wipe, should be higher on others.
Also this setup will retract A LOT (as it should). To disable many retractions, edit the profile and go to ADVANCED - and activate 'Only retract when crossing open spaces'. Also activate the 'Avoid crossing outline for travel movements' this second option it's like combing of cura, but on S3D you can specify how much, or less, you want your head to move around the print area.
EDIT 18/04/16
Like many thinks on S3D, the documentation it's... well. short to non existant
GROUPING AND PROCESS
Change settings on 5 process with just changing it on one...
There's a think that happens on the brain when you start to work with 6 process like me. When that happens you are sometimes afraid to change stuff like temperature, fan speed, and for example bed size.
The think, that's its' quite amazing imo, it's that with S3D, when you Group X number of process, something really beautifull happens. And that's that you can actually ummm let see if this example it's easier to explain.
You have 5 process, all with different nozzle sizes, different layer heights, and even different infills. But all of them, have the same temp, fan speed and ofc bed size. Ok, what do you have to do to change the temperature of the whole print? You might have to go one by one writing the new temps, or new fan speeds. And that's a MESS...
But the beautifull think it's that if you select your Process and GROUP them (ctrl+g) ALL the settings that are in common at that moment become CONNECTED! So... You group 5 process, change the temperature on 1 Process, and Instamagically all the grouped process have that temp changed, the bed size changed, etc. AND THAT's soo beautifull.
S3D guys might lack in documentation, but sure they know how to make a program.
It's very badly explained (well it's quite ok, but it's quite hidden!) Link to the video at 03:22
So with this, I can open a FFF file (format S3D uses to pack a full bed with objects, positions, process) and group 5 process, change the temperature, bed size. Without going one by one. For example I can change my profiles from 3.2mm retraction (umo+) to 2.5mm (um2 1.75mm) retraction in just a few clicks.
EDIT: 30/04/2016
Some info about coasting and wipe + retraction while wipe
Coasting distance, works much better with very very very short distances like 0,04-0,20. Using like I used before distances of 0.40-0.60 creates an error on the print, when doing a TON of retracts and extruding very small amounts of material, like my little texts that are on a process that uses 0.32-0.36. There's a point that makes it under extrude the text after the 3-4layer because there are errors on the restart after a retract since some material has been lost on the wipe/retract. Specially when printing more than 1 at the same time. With just 1 it happens but ... well... depends on the material mostly.
About wipe:
If you activate Wipe nozzle and you have 'Perform retraction during wipe movement' then the distance you set for 'Wipe nozzle' it doesn't matter. It will wipe as much time as the retracts takes place. So if you retract faster the wipe distance will change. Also it will only wipe if the minimum travel for retraction kicks in, so it won't wipe always, but only when he can.
To be able to control wipe nozzle, you must deactivate the perform retraction during wipe, but that also removes the retraction. So... It's quite like juggling balls.
Ofc the amount of filament lost could be controlled with extra restart distance. But that would need a very fine tune with a big amount of print tests.
Resuming:
a) Save coasting for very drippy filaments
b) Wipe nozzle + advanced 'perform retract during wipe' cancels the distance of the wipe with as much as he needs to retract (so retraction speed + distance defines this)
c) Wipe alone without retraction can be controlled.
This it's how the retraction speed affects how much distance will the wipe do when te option 'perform retract during wipe' it's enabled.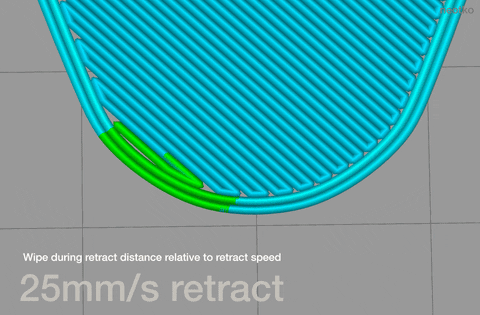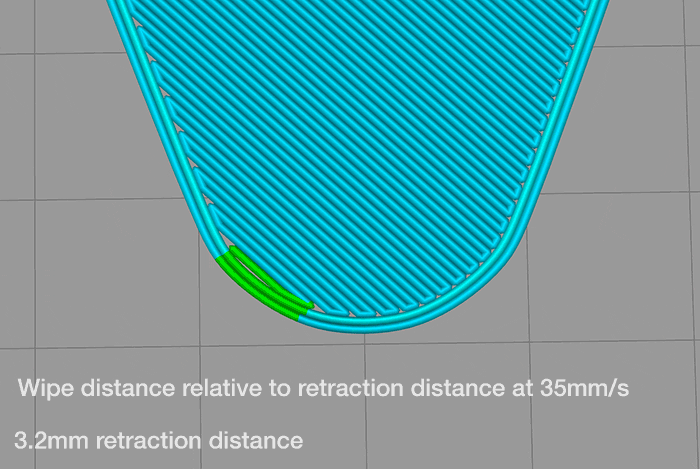 Edit 2/5/2016
A good starting gcode for um2 machines:
https://ultimaker.com/en/community/1607 ... ply-107897